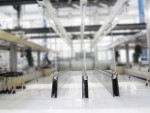 Painting process for radiators
Published: 10 August, 2018
Henkel says its innovative BONDERITE M-PP coating process delivers a simple and economical alternative to electro coating and for one European manufacturer, adoption of the technology has underpinned its survival. The process not only provided conformity with increasingly tight environmental legislation, enabling production to continue, but it also boosted product quality too.
Radiateurs Industrie has been a major player in the French domestic heating market for over half a century. Until the end of 2015, the company still operated a conventional dip paint primer process that contained solvents. These had to be eliminated in line with new EU law in favour of a sustainable, water-based process.
Through its BONDERITE brand, Henkel proposed its BONDERITE M-PP process as a solution to Radiateurs Industrie's compliance problems.
w: www.henkel.com
Click here for the full unedited version of the release as provided by the company