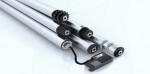 Drive roller technology
Published: 01 August, 2018
RULMECA UK has announced it will present a comprehensive range of conveyor rollers and innovative hygienic drive solutions, whilst highlighting its new generation of smart 24 VDC Rulmeca Drive Roller technology at the PPMA Show 2018 25th – 27th September, NEC – Birmingham.
The new Rulmeca Drive Roller BL3 features a brushless motor installed in a 50 mm diameter roller that is able to drive adjacent rollers, without the need for external drive units, transmission chains or expensive guards for safe, silent and efficient operation.
Thanks to the performance and the configuration flexibility, high speeds and torque, the Drive Roller BL3 can provide a smart state-of-the-art solution for a great variety of demanding industrial conveying applications.
t: 01536 748525
e: ghalligan@rulmeca.com
Click here for the full unedited version of the release as provided by the company