Metering pumps
Published: 06 July, 2017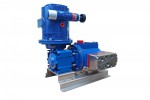 There are reportedly only two common pump types that purport to guarantee a fixed delivery volume over time and against varying back pressures… reciprocating diaphragm pumps and plunger pumps.
HYDRA-CELL pumps are said to offer the benefits of each type without the drawbacks, having multiple diaphragms in a single pump head guarantees the volumetric accuracy of a conventional metering pump but with very low pulsation, removing the need for pulsation dampeners in many instances.
Hydra-Cell pumps are also said to be more economical than traditional diaphragm metering pumps, in terms of acquisition, spare parts and energy costs.
t: 01252 816847
e: NHerrington@wannerint.com
Click here for the full unedited version of the release as provided by the company