Grease, silicones and epoxy dispensing made easy
Published:
01 February, 2009
The 'Single Flow 20' has been specifically designed to help maintenance engineers, production/manufacturing personnel and engineering personnel dispense grease, silicone, epoxy and polyurethane materials more easily and economically. The Reinhardt Technik Single Flow 20 is exclusively available from Eurobond Adhesives Ltd the sole distributor in the UK. The machine is ergonomically designed for ease of use and is very user friendly. The pneumatically operated Single Flow 20 can accomodate 20 litre -30 litre pales or drums and the whole platform is mounted on wheels for easy mobility and use by the operator. Additional options include a cartridge filling station, automatic material discharge valve, material pressure control valve and material feeding through several extrusion guns. The machine can also be connected to an automatic application facility. The maximum output can be 4 kilos per minute depending on the material viscosity. Inspite of the high and variable output performance the machine is incredibly energy efficient with very low energy demands. A larger 200 Litre machine is also available.

For more information or for a free no obligation quotation please Telephone Eurobond Adhesives Ltd on: 01795 427888 or email sales@eurobond-adhesives.co.uk
Sign up for the PWE newsletter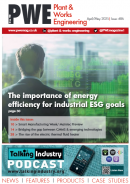 Latest issue
To view a digital copy of the latest issue of Plant & Works Engineering, click here.

View the past issue archive here.

To subscribe to the journal please click here.
To read the official BCAS Compressed Air & Vacuum Technology Guide 2018 click the image
Poll
"How is your manufacturing business preparing for a net Zero target?"
Twitter
Events Diary