Making light work of adhesives
Published: 06 January, 2008
Adhesives that cure rapidly when exposed to an appropriate light source are now regularly used in a variety of industries. Alongside their capability to be readily adapted into high-speed production processes, they offer easy dispensing with the facility to join with high bond strength a wide range of substrates.
What's more, these products are able to cure 'on demand". This allows parts to be positioned with the adhesive in place, but not to be bonded until the joint is exposed to light. In this way, the operator can be satisfied the alignment is correct before the bond is completed.
How it works
Simply put, a light-curing adhesive needs the presence of light at the appropriate wavelengths and at adequate intensity to initiate the curing procedure. In the past, UV light adhesives were formulated to cure at around 365 nanometre wavelengths. However, because polycarbonate substrates absorbed this wavelength, it was necessary to go further and create visible light curing formulations.
These 'visible light' adhesives, are being employed very successfully for applications where translucent or coloured substrates, such as polycarbonate, polystyrene, and acrylic plastics.
Variety of uses
Light curing adhesives are widely used for the bonding of medical devices. But that's not to say that general industrial applications should not be considered. Indeed, this bonding technique can now be found in automotive, optical, electronic, and a wide selection of other industries.
There are many factors that persuade engineers to implement light curing adhesives as part of a manufacturing procedure. Earlier, mention was made of the 'cure on demand', but speed of cure, easy dispensing and the optical clarity of these adhesives can also offer big benefits to the component and the manufacturing process.
Two types
Two types of light curing adhesives are acrylic and cyanoacrylate (CA).
The earliest developments were acrylic formulations, and these cure to form thermoset resins. Depending on cure conditions and the specific make up of the adhesive, acrylics offer a range of properties ranging from flexible, moderate elongation to hard, high modulus. In addition, they are available in a variety of viscosities from thin liquids to thixotropic gels.
On the other hand, light curing cyanoacrylates have only been available for about eight years. They are formulated using an ethyl cyanoacrylate monomer and need no mixing prior to use. Just as important, the application and performance of these adhesives are similar to the regular, non-photoinitiated cyanoacrylate products with which many designers and engineers are already familiar.
They offer the benefits of conventional cyanoacrylate and light curing acrylic adhesives while overcoming many of the limitations of those conventional technologies. Put simply, light curing CAs present the speedy photoinitiated cure rate of an acrylic, together with the secondary cure mechanism of a cyanoacrylate. The viscosities of these innovative CAs range from 30 cps to 900 cps, which, for the most part, is lower than acrylics.
Light curing CAs cure almost immediately when exposed to the appropriate light source. A few seconds later they will have reached about 60 per cent of their final bond. The adhesive that has been applied in areas not exposed to light then cures by the residual moisture mechanism found in regular cyanoacrylates.
Light curing CAs provide many of the same advantages as light curing acrylic adhesives - high bond strength and rapid cure, for example – plus some additional benefits. In particular, light-curing cyanoacrylates can be used in conjunction with a primer to bond applied to 'difficult' substrates – polyolefins, fluorocarbons and fluoropolymers.
Finally, there is a greater gap curing ability, together with better heat and chemical resistance.
Practical examples
So, where are such adhesives used?
In one example, a manufacturer of a high performance golf club needed to bond the specially made glass head to a graphite or steel shaft. This was a major challenge because the adhesive needed high strength combined with enough flexibility to be unmoved by the shock transmitted as the club makes contact with the golf ball. Beyond that, ease of application and quick curing were also factors that needed to be considered.
The acrylic UV adhesive that was selected for the task required 30 seconds of exposure to ultra violet light to create a cure that met the criteria. In fact, the club could be used immediately after the completion of that cure.
Other benefits emerged, too. In particular, the adhesive allowed the head to be removed or repositioned, if necessary – simply by immersing it in boiling water.
Key to success
A creator of designer key holders had chosen to outsource the making of custom emblems for attachment to the metal fobs. Before UV bonding products were considered, these epoxy–coated emblems required a hot melt adhesive to bond the component to the fob. However, this adhesive would not bond to all substrates and, as a result, quality became a major concern.
To overcome these problems, the manufacturer switched the emblem production to an in-house operation. At the same time, it was decided to use a UV curing adhesive to bond the parts. This operation, which took just 15 seconds per key fob, enabled the overall production time to be reduced from six weeks to just one day. The cost was reduced by up to 70 per cent per unit, while the quality of the end product dramatically improved.
Opening new doors
Another application involved the maker of electronic circuit boards for use on automatic garage door openers.
Previously, a solvent bonding adhesive had been used to bond the antenna on the remote transmitter. This adhesive was manually applied and required a 24-hour cure time. Clearly, this procedure not only presented Health and Safety concerns, but also meant that there was a large 'work-in-progress' inventory.
The solution was to switch a high strength, low viscosity Light Curing Adhesive. The single-component, solvent-free adhesive that was selected is especially suited for continuous flow assembly methods because it cures in just seconds when exposed to UV/visible light sources.
This change of adhesive allowed the company to accomplish its goal of total continuous flow assembly.
UV curing equipment
Getting the correct grade of UV adhesive right is only part of the selection process. It is just as important to ensure that not only can the adhesive be dispensed in the right place and the right quantity, but also that the curing lamps are suitable for the size, configuration and throughput for production.
Adhesives can be dispensed using a variety of methods including directly from the bottle or syringe. But to control the quantity accurately and prevent excessive adhesive at the workstation, the product can be dispensed by syringe dispenser, peristaltic pump or via a pressure pot. It is essential that these adhesives, which are packaged in both syringes and bottles, are applied using opaque tubing and nozzles to prevent pre-cure in the dispense lines.
UV curing systems include spot and flood lamps and conveyors that transport the components to be bonded under the light source. Each type of lamp will have its own spectral output, so it is important to select the one that matches the cure characteristic of the adhesive.
Lighting the way
The list of applications is growing as an increasing number of companies realize the benefits of these adhesives.
Light-curing adhesives provide processing and performance benefits for high-speed assembly processes. They offer high-bond strength to a wide variety of substrates and achieve high performance with guaranteed complete cure.
In short, they present manufacturers with the ability to improve the robustness, output and performance of their bonding operations.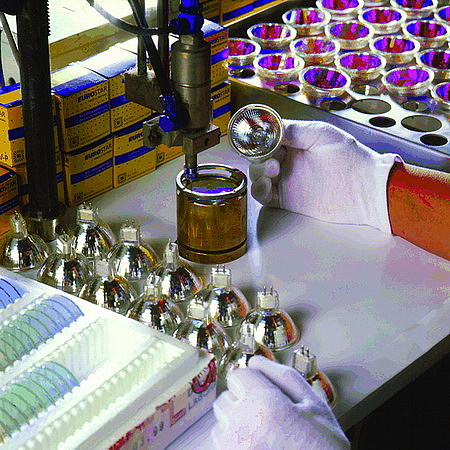 The lenses on these low voltage halogen lamps are bonded to their holders using Loctite 5088 Silicone UV adhesive

For more information please contact: www.loctite.co.uk