Useful weblinks
Published:
30 November, 1999
Links to third party sites are provided for your convenience. Plant & Works Engineering does not control these sites nor is it responsible for their contents. Inclusion of links does not imply endorsement of the site, business or organisation, or of the material displayed on these sites.

Sign up for the PWE newsletter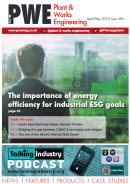 Latest issue
To view a digital copy of the latest issue of Plant & Works Engineering, click here.

View the past issue archive here.

To subscribe to the journal please click here.
To read the official BCAS Compressed Air & Vacuum Technology Guide 2018 click the image
Poll
"How is your manufacturing business preparing for a net Zero target?"
Twitter
Events Diary