Italian takeover
Published:
18 December, 2007
Component manufacturers Specialist Heat Exchangers and Tube Fins, has been acquired by an Italian sub assembly manufacturer as part of a £9m takeover. Bank of Scotland Corporate has provided £5.1million of funding, with a further £0.5 million provided by way of working capital facility.

The Italy-based Raco Group acquired the Lincoln and Tamworth based businesses, which are part of the holding company Cooling Power Holdings. One of the Group's key aims is to use the businesses' strong position in the US marketplace to build its own portfolio of customers across North America. In return, Cooling Power Holdings will be able to take advantage of Raco Group"s existing customer network which is located throughout Europe.
Sign up for the PWE newsletter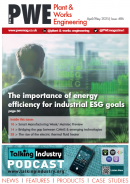 Latest issue
To view a digital copy of the latest issue of Plant & Works Engineering, click here.

View the past issue archive here.

To subscribe to the journal please click here.
To read the official BCAS Compressed Air & Vacuum Technology Guide 2018 click the image
Poll
"How is your manufacturing business preparing for a net Zero target?"
Twitter
Events Diary