Roadside air monitoring
Published: 31 May, 2018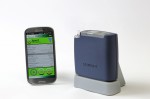 Ahead of the UK's Clean Air Day on 21st June 2018, CASELLA has announced a tender win for the largest online monitoring system for city roadside dust in the world, located in Shanghai, China.
In 2017 the Shanghai Environmental Protection Bureau announced that 2016 had experienced the cleanest air in almost six years. Keen for this to continue, the Shanghai Environmental Monitoring Centre spent 2 years experimenting and field testing instruments for a roadside dust monitoring system before confirming Casella as the provider.

453 sets of the Casella's MicroDust Pro dust detection monitor, a real-time hand held data logging instrument for detection of airborne dusts, fumes and aerosols and Apex2 Plus personal dust sampling pumps to monitor airborne contaminants, have been incorporated into the system.
W: www.casellasolutions.com/uk/en/products/dust-and-gases/hand-held/
Click here for full unedited version of the release as provided by the company